Get our compilations and pay just 44,99 for every compilation instead of more than 70$ by single purchase!
Get now 3 college girls clips in 1 video:
- Coed Captured : Emily is studying at her home. She hears a noise outside and walks to the window to see what happened, but there is nothing to see. As she's back at her desk, an armed man rushes into her room. He commands her to stand face to the wall. Then he starts to tie her up and gags her. During Emily is tied up on the floor, the masked guy searches some money. As he didn't find money he decides to blackmail the money from Emilys parents. He takes her to his car and commands her into the trunk. Then he drives to the woods, where he puts a hood over Emilys head. So she must walk through the woods. The masked man ties Emily to a tree. He takes the hood from her head and makes some photos. Emily begs to let her go, but the man wants to blackmail some money from her parents. After getting the pictures, he unties Emily from the tree and commands her back through the woods. And now....
- Captured Student : Juliette is studying at her home. While she reads a book an intruder has taken his way into her house. He catches the sweet girl, ties her up and has his way with her. Juliette has to blow the intruders dick and gets finally fucked into her pussy. Tied up and with her legs spreaded wide she's left after the fuck.
- Pling In Distress : Sweet longhaired Pling is getting in huge distress as an inturder overpowers her at her kitchen. She's getting tied to a chair. The ropes are so tight. Will she ever escape from that tie up?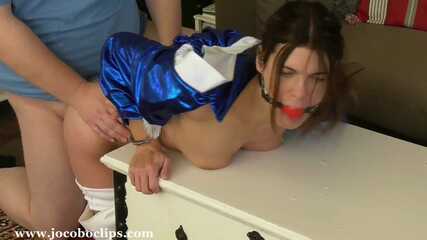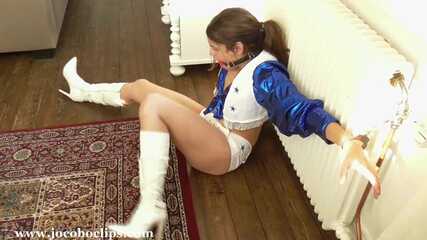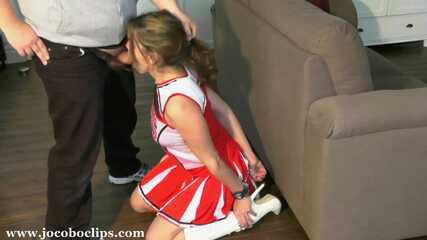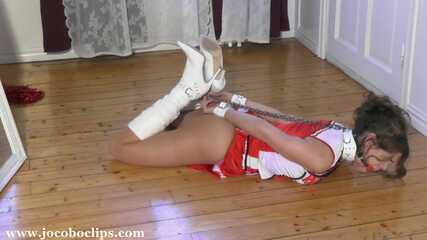 Get now 3 cheerleader clips in 1 video:
- Cheerleader Captured At Superbowl Party : Juliette will have a Superbowlparty but it is enough time to order a pizza. The guy is surprised to see her in a cheerleader outfit and asks her if she is alone at home. Juliette doesn't close the door. The guy comes back and captures her and cuffs her wrists on her back and ties her in a hogtie. He searches for money but Juliette has no cash at home. He decides to have some fun with the cheerleader. He fucks her mouth and then it is time for fucking her.
- Cheerleader Captured For Fucking : Juliette is too late for the cheerleader training. She searches after her boots. Behind the sofa she got her sexy white boots. Juliette sits on the floor and takes on the boots. She hears a noise. Someone is in the house! Who? Juliette is very quiet. It's an intruder and she tries to escape. But it's too late. The guy catches her and she knows him. He always wants a date with her and she always said "No" to him. Now he is here. He cuffs her hands behind her back and touches her breasts. He also cuffs her ankles and he takes out his dick and Juliette has to blow his dick. After little mouth fucking he gags her with duct tape. Juliette has to bend over and he fucks her in a doggystyle. After he cums into her pussy he cuffs her in a hogtie and leaves her alone. Poor cheerleader!
- Cheerleader Caught : Juliette is a really cute cheerleader. She prepares for training and puts on white boots. She also searches after her pompons. She leaves the room. Suddenly a guy comes in. He searches after something. He thought there is nobody home and now he hears some noise. The guy stands behind the door as Juliette comes in with her pompons. He overpowers her and lays her down on the floor. Now the guy gags her with a red ballgag and cuffs her wrists with white leather cuffs on her back. He cuffs her ankles also with white leathercuffs. He puts a slavecollar around her neck and connects it with her ankles. Juliette realizes the situation and struggles a lot. She begs for help but no one can hear her.